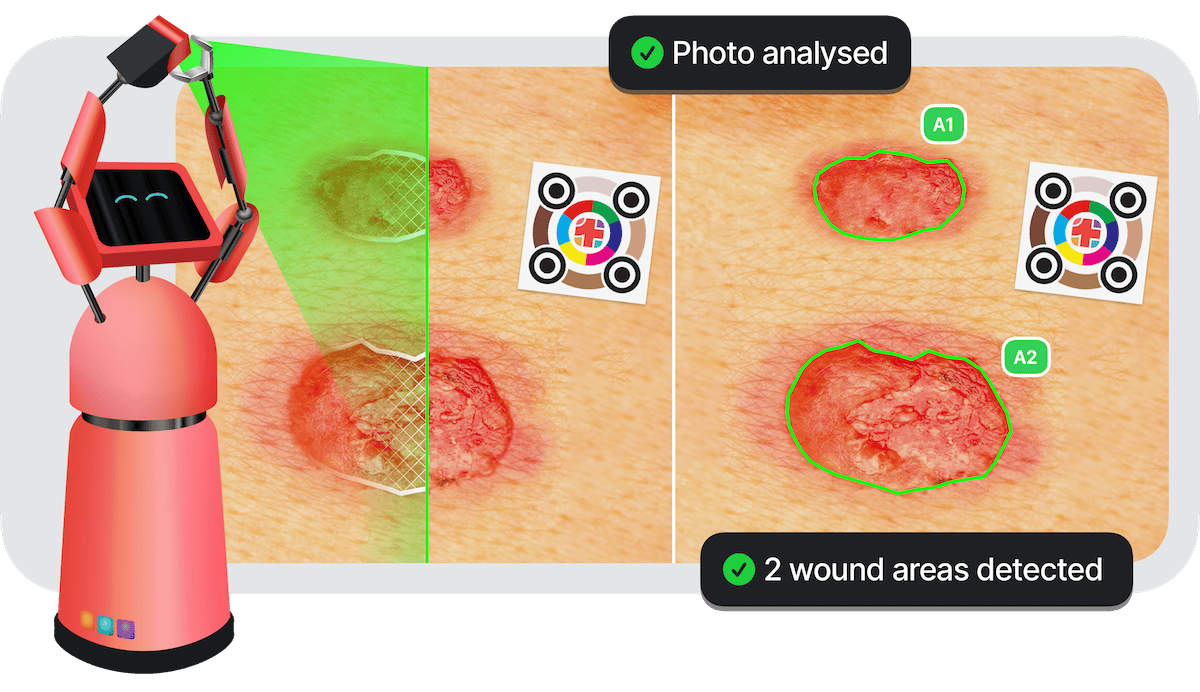 Our wound measurement has already been clinically validated several times and is used by thousands of users every day. Healthcare professionals have been benefiting from rapid measurement with our calibration markers for years.
Now it's time to unleash the first superpower for your wound analysis 🥁
imito's automatic wound measurement will be available in imitoWound from November. The function is explained very simply.
Just place the calibration marker next to the wound, take a photo, and you're ready to measure ✅
Automatic wound measurement enables even faster and more objective measurement of the wound. This saves time and creates a transparent overview of the development of the wound area.
The AI behind the new superpower has been trained with thousands of photos of wounds that have been checked by experts. Regardless of the skin tone, it automatically recognizes the edge of the wound, eliminating the need to outline it with a finger. Of course, several wound areas are also recognized during a measurement and the wound edges can be adjusted if necessary.
But this is just the first superpower for your wound analysis. We will be introducing others soon. Tissue types and decision support are the magic words here. Stay tuned.
Behind all these superpowers is a great team with an exciting story. Read our story and get to know our team.
If you have any questions or would like to find out more about the other superpowers, please contact us!
P.S.: Automatic wound measurement will be available from November for imitoWound and soon also for imitoCam Enterprise. As an Enterprise customer, you can activate the function together with Florian Dietrich, Christoph Harz & Co.